The term "cancer" typically ignites feelings of fear, despair, and stress. With cancer care costs regularly rising, it is easy to understand why a third of cancer patients go into debt. A cancer diagnosis can be stressful without considering the financial burdens it can pose to the patient and their family.
But fear not! We at American Life Fund work with cancer patients to help them financially, so we put together this comprehensive list of free money and financial assistance for cancer patients.
Here are 6 of the best resources for financial assistance for cancer patients.

Financial Assistance & Free Money For Cancer Patients Type #1: Your Life Insurance Policy pays YOU (through a Viatical Settlement)
Anyone struggling with a severe medical condition knows that health insurance coverage doesn't always cover all costs. In the United States, you may still face significant out-of-pocket expenses even with government programs such as Medicare and Medicaid.
However, most people don't know that a life insurance policy is considered an asset that you own, meaning insurance policyholders can sell their life insurance for a lump-sum cash payment, also known as a viatical settlement.
With a viatical settlement, the funds are tax-free and non-regulated, meaning YOU decide how they are spent.
Not only can you pay towards your medical expenses, but also towards the cost of living expenses or even a luxurious vacation with your loved ones. As the settlement holder, the choice is uniquely yours.
In some cases, individuals can receive 70% of their life insurance policy in little as 2 weeks!
How it works: Unlike life settlements, viatical settlements are designed for life insurance policyholders with life-threatening illnesses, reduced life expectancies, or chronic health issues.
Cancer patients with life insurance policies can enter agreements with third-party buyers to sell their life insurance policy in return for a lump-sum payment (more than the cash value of the life insurance policy but less than the death benefit).
The life settlement company takes over by paying the monthly insurance policy premiums and receives the death benefit after the seller's passing.
If you're considering selling your life insurance policy, American Life Fund is here to help. For us, the most important thing is alleviating the financial burden associated with cancer care, reducing stress, and enabling you to spend more time on the things that matter.
Through our hassle-free application process, American Life Fund will help you get an immediate cash offer for your insurance policy.
Financial Assistance & Free Money For Cancer Patients Type #2: Cancer-Specific Financial Grants
There is a multitude of organizations that offer financial assistance for cancer patients. This type of financial assistance is also known as a cancer-specific financial grant.
While some grants are generalized and open to applicants with all cancer types, others are specific to certain cancers. The best way to search for financial assistance for cancer patients that you may qualify for is through your local nonprofit organizations.
When looking online, try searching for "cancer financial grants," "cancer help near me," "cancer patient discounts," or grants specific to a certain type of cancer, such as "lung cancer financial grants," or "breast cancer treatment grants," for example. The best part about cancer financial grants is that they are free money and don't come with strings attached.
The Colorectal Cancer Alliance offers limited financial assistance for cancer patients through a one-time financial stipend for up to $300 and The Breast Cancer Charities of America offers grants for up to $1,000, accepting applications monthly from the 1st of the month to the 5th of the month.
Regarding financial grants, the most challenging part is locating an organization that still has funding available. Although it can be time-consuming to locate grants, the time invested can pay for itself. Don't be discouraged–persistence is key, and resources are out there.
The following organizations offer financial assistance in the form of grants to cancer patients in need: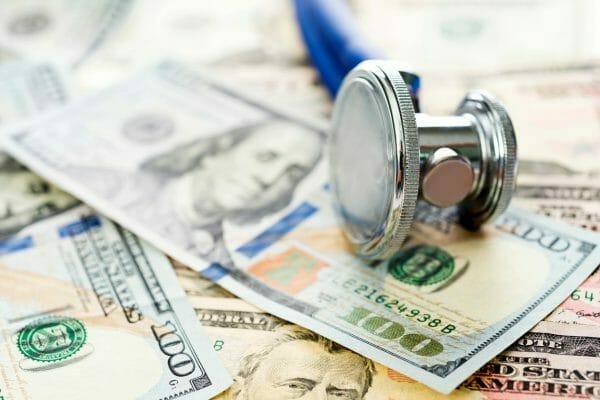 Financial Assistance & Free Money For Cancer Patients Type #3: Utility Assistance
When juggling finances to pay for cancer care, every little bit helps.
Utility assistance is payment provided to help cover the utilities within a home, including payment for home energy costs, bills, and any necessary energy repairs.
Utility assistance provides patient support by taking some of the financial burdens off their shoulders by helping with out of pocket costs and allowing them to focus more on investing in their treatment.
Programs such as the LIHEAP (Low Income Energy Assistance Program) offer utility assistance to low-income households and those experiencing crises. The contact information for this resource differs from state to state, so be sure to check the website.
Cancer Horizons and The Pink Fund are two other great resources to consult for financial utility assistance. You can also call "211" to locate additional local utility assistance programs for cancer patients in need.
Financial Assistance & Free Money For Cancer Patients Type #4: Prescription Assistance
With the cost of cancer medications rising, many patients feel concerned about how to afford treatment.
Thankfully, programs like PPA (Partnerships for Prescription Assistance) can help by providing free money to cancer patients through free or reduced-cost prescriptions.
Their easy-to-use online website lists multiple prescription assistance programs that you may qualify for as a cancer patient.
Another resource offering financial assistance for cancer patients is Needy Meds. Needy Meds offers a free Drug Discount Card, which provides savings of up to 80% on prescription medications.
If your insurance does not cover a medication, or if your insurance has a high deductible, fear not–you can use your Drug Discount Card to help pay for prescriptions.
Also, the Medicine Assistance Tool can help cancer patients to locate additional financial resources for assistance with prescriptions.
Financial Assistance & Free Money For Cancer Patients Type #5: Gift Certificates and Free Gas Cards
When dealing with cancer, the last thing you should have to worry about is the price of gas; however, as trips to treatment centers increase, so does the cost of transportation. Gas can be EXPENSIVE (especially if you live somewhere like California)– so why pay for it if you don't have to?
Tenaciously Teal is an organization that provides gas and groceries gift cards for cancer patients. Additionally, NeedyMeds is a great resource to consult for help with medical transportation and necessary travel expenses.
Also, check out The Cancer Card Xchange, as they accept new applicants periodically.
Free gift cards for breast cancer patients
Hope Chest for Breast Cancer Patients provides financial assistance to breast cancer patients through gift cards for groceries, gas, and other necessities.
Financial Assistance & Free Money For Cancer Patients Type #6: Fundraising
One of the quickest, easiest ways to supplement financial assistance for cancer patients is fundraising. With a little upfront investment of your time and a good social network, fundraising can be an effective tool for harnessing financial funds.
Online fundraising platforms like GoFundMe allow you to post your need/cause and share that need/cause with others. However, the downside is that you only receive a portion of the funds raised.
The second method of fundraising worth considering–and from which you'll get to keep all profits– is known as a personal fundraiser. With this type, you, your friends, and your family raise funds by offering something to the community, such as a bake sale or car wash, for example. Feel free to check out MedGift Advocacy Services for a list of fundraising ideas.
Don't be afraid to seek a higher quality of life. You deserve it, no matter what your financial situation is. To learn more about how we help cancer patients financially, contact us at American Life Fund today!
Frequently Asked Questions About Financial Assistance & Free Money For Cancer Patients
What benefits are cancer patients entitled to?
If you are an American citizen struggling with cancer, you may qualify for Social Security Disability Benefits. The more aggressive the cancer, the more qualified you are likely to be.
Can you get financial help if you have cancer?
Yes, you can get financial help if you have cancer. You can get everything from help with prescriptions, lower utility bills, free wigs, grants, viatical settlements and much, much more.
How can I get money for cancer treatment?
Grants, crowdfunding, and disability benefits are some other ways you can get money for cancer treatment. Additionally, viatical or life settlements (where you sell your life insurance policy for a lump sum of cash), can be a great option to get money for cancer treatment.
Does stage 4 cancer qualify for disability?
Stage 4 cancer patients typically will be approved for Social Security Disability benefits. If you have stage 4 cancer, there is also a good chance you will qualify for a viatical settlement.
Check out other articles on financial help options for specific types of life-threatening illnesses: